Our Academic Courses and Workshops
About Institute of Astronomy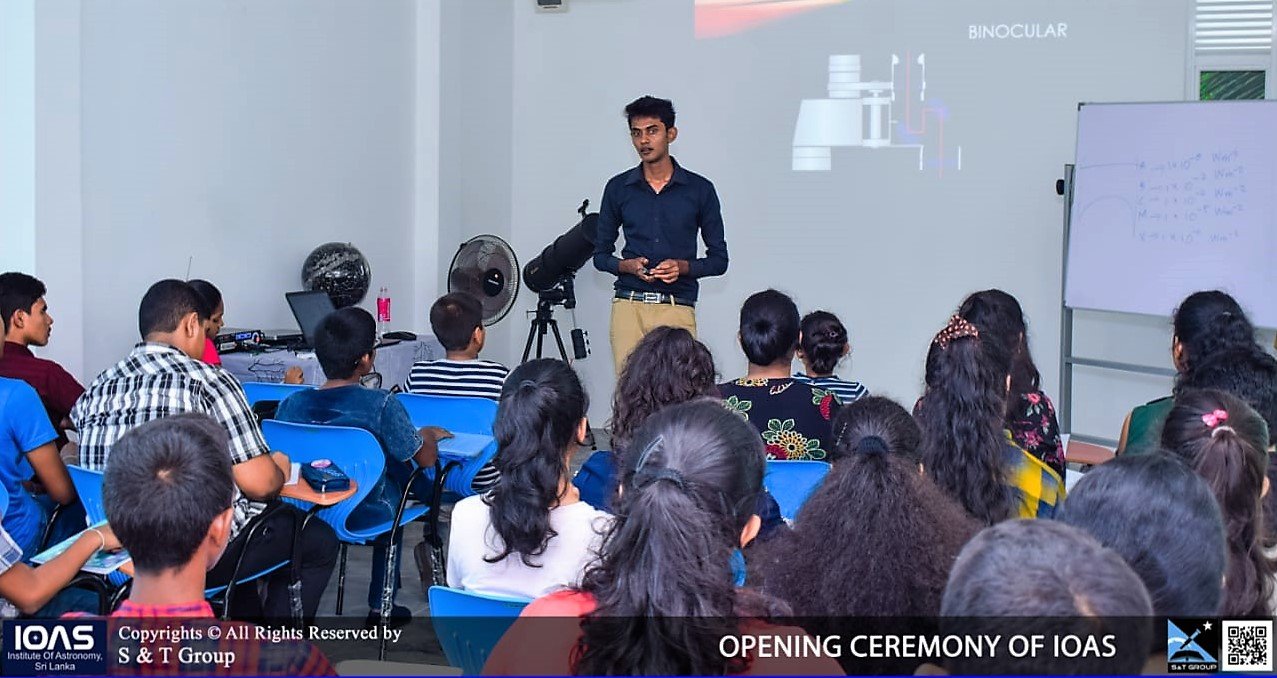 IOAS is the pioneer Astronomical institute in Sri Lanka with professional and amateur astronomers from all over the world, who are active in astronomical research, education and outreach in astronomy. It is one of the highly recognized astronomical organizations in the south Asian region.
Mission of the IOAS is to promote astronomy in all its aspects (including research, communication, education and development) through national and international cooperation. IOAS was founded in 2018, functioned under S & T Group established in 2002.
It main focuses the advancement of the field of astronomy in terms of both stimulating and disseminating astronomical knowledge among youngsters, on providing the training and resources necessary to use astronomy to stimulate teaching and education from elementary to high school level, training young astronomers at university level, and producing the next generation of astronomers.
Among the tasks of the IOAS are: promoting educational activities in astronomy; and hosting informal discussions on the possibilities for future international facilities, working to promote astronomical research, education, and public outreach, as well as using astronomy for development.
It consists with 4 departments

(i) Department of Astronomy for Education (DAE), to stimulate and develop standards for teaching astronomy at the elementary to high school level.
(ii) Department of Research and Development (DRD), a joint venture with the City Observatory
(iii) Department for Astronomy Outreach (DAO), a joint venture with the S &T Group
(iv) Department for Amateur Astronomers (DAA), a joint venture with SGAC
Courses/ Activities
Astronomy Certificate courses and workshops
December school for beginners, intermediate and advanced levels
Standard professional night sky observation camps, and Astronomical Workshops and Training Programmes in schools, teacher training colleges, Universities and Institutes.
"A holiday with stars" Enthusiastic Stargazing events for guests in hotels and resorts.
"White Dwarf" Night-time Adventure activities engaged with Astronomy
School for Astrophotography
Our Strengths
Strongest astronomical network
Professional Qualified and experienced staff
Team work
Sri Lanka's best Optical Instruments
Collaborations with International organizations
Quality of vendors and service providers
Our Values
Innovation
Diversity and Equality
Trustworthiness
Cooperate Social Responsibility
Research and Development
Suns spots and Solar Physics research affiliated with Solar Observatory, Colombo
Asteroid Searching Campaign affiliated with

International Astronomical Search Collaboration (IASC)

Binary star research affiliated with City Observatory, Colombo
Official affiliated organizer for Space Generation Council
Courses

December school (over 11 years)
December School for Beginner level (Sinhala medium)
December School for Beginner level (English medium)
December School for Intermediate level (Sinhala medium)
December School for Intermediate level (English medium)
December School for Advanced level
Night Sky Observation Camp is included for every course.
Certificate Course (4 months)
Training classes for International Astronomy Olympiad competition.
Senior Certificate course in Astrophysics (12-14 years)
Junior Certificate course in Astronomy and astrophysics (over15 years)
Kids Work shops (5 hours) (5-11years)
Astro Space Workshop-1 (Sinhala medium)
Astro Space Workshop-1 (English medium)
Astro Space Workshop-2 (Sinhala medium)
Astro Space Workshop-2 (English medium)
STEM Education Workshop-1 (Sinhala medium)
STEM Education Workshop-1 (English medium)
One day Workshops (over 12 years)
Astrobiology Workshop
Astro chemistry Workshop
Alien and UFO Workshop
One day Astronomy and Astrophysics work shop for junior students
One day Astrophysics work shop for senior students (over 14 years)
Collaborations
Member International Astronomical Union
Space Generation Advisory Council (SGAC-UN)
International Astronomical Search Collaboration, Texas USA.
Astronomers Without Boarders
American Association of Variable Stars Observers (AAVSO)